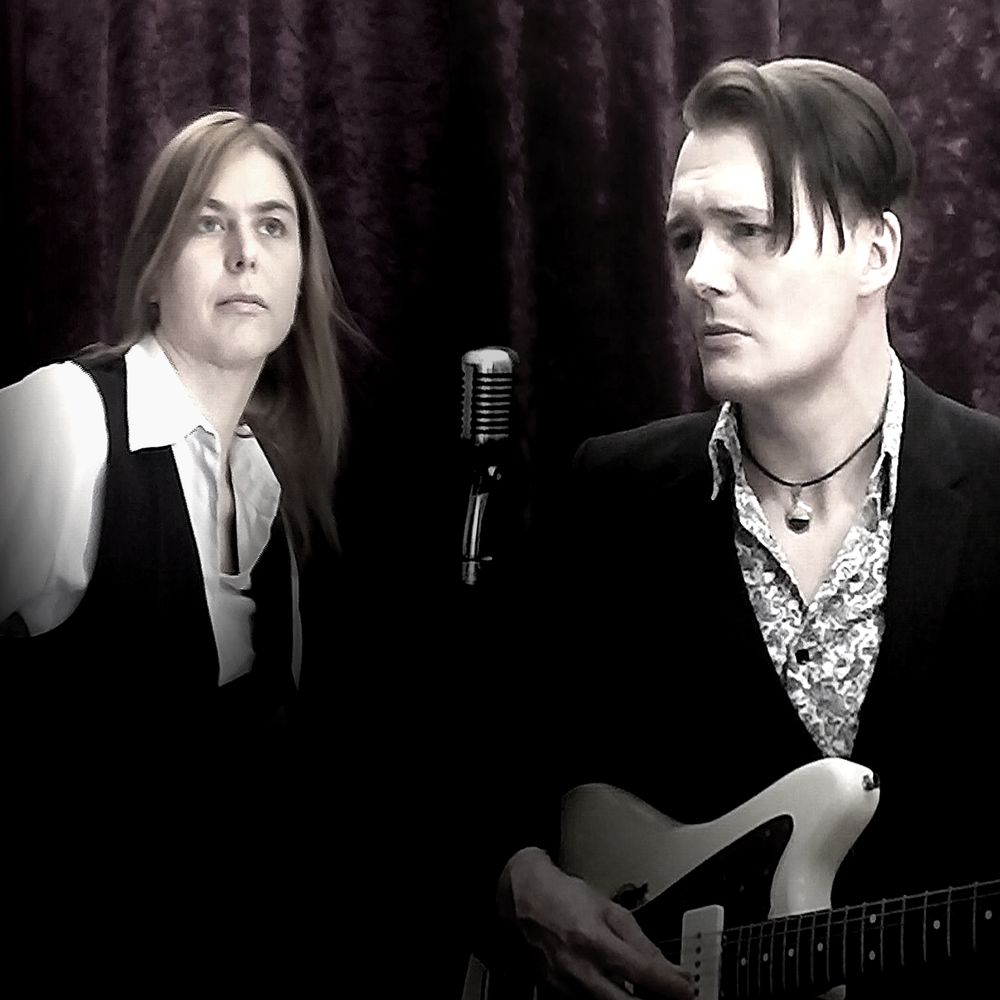 BIOGRAPHY
Ricardo Hoffmann, singer, songwriter and multi-instrumentalist of Saline Grace, was born in the eastern border town of Frankfurt (Oder), Germany, in 1975. In 1994, he founded his first band project, The Vagrants, becoming two years later, in 1996, the avantgarde band Nobility Of Salt. In 1997, the band released a first demo tape, 'The Evening Prayer', and the musicians were drawn to London. Numerous UK gigs left appropriate traces on a further demo-tape, 'Through Clouds And Thoughtful Years', in 1998. At the beginning of 2000 and after three years' residence in Britain, the band worked on their first album in Berlin, Germany, releasing 'The Tremulous Sea' a few months later. After releasing the EP 'The Silent Ship' in 2002, followed the last Nobility Of Salt-release, 'Those Narrow Streets', in 2004.
In 2005, Ricardo Hoffmann began to work on material for the first Saline Grace-album. On this occasion, he was supported by his wife and long-term bass player, Ines Hoffmann (née Pollok), who was born in 1976 in Frankfurt (Oder) as well and came initially in touch with Ricardo Hoffmann's music in 1994. Saline Grace released their well-made debut album, 'Border Town Shades', in September 2007.
In 2011, Ricardo Hoffmann made time for a short guest appearance, joining Hamburg-based band Dark Orange on their album 'Horizont'. Along with Steven Burrows (And Also The Trees) on bass, Ricardo Hoffmann contributed on additional guitars and piano. Whilst involved in the final work for a further Saline Grace album in 2012, he furthermore created his 'Rising Stream Mix' of Dark Orange's song 'Traumwandler' for 'Interpretations', a bonus CD of the same release; other remixes were made by artists like Robin Guthrie (Cocteau Twins), members of And Also The Trees and many more.
On 21st January 2013, more than five years after their debut, the long-awaited second Saline Grace album 'Fog Mountain was released. Critically acclaimed by music journalists and chosen as one of the best ten albums of 2013 by German music magazine Amboss, this musically very sophisticated album was their most important work so far. Four years later, on 4th September 2017, 'Blacksmith's Fire' was released, whereby the band once more demonstrated their ability to increase themselves.
On 12th July 2021, after more than twenty years in music business, Ricardo Hoffmann put out his first release in his national language with Saline Grace's single 'Der Meister der Intrige'. Due to the alarming political developments in his home country, the songwriter had the distinct feeling to make a contribution to the awakening of his fellow countrymen. This resulted obviously in a lag of time for the working progress of a planned Saline Grace-album.
However, between 2021 and 2022, the planned follow-up album received its final touch. Distributed by cdbaby, the latest Saline Grace-album, 'The Whispering Woods', has been released by DeeperWatersRecords on 21st January 2023. 
DISCOGRAPHY
SALINE GRACE - BORDER TOWN SHADES (Album 2007/DWRCD03)
SALINE GRACE - FOG MOUNTAIN (Album 2013/DWRCD04)
SALINE GRACE - BLACKSMITH'S FIRE (Album 2017/DWRCD05)
SALINE GRACE - DER MEISTER DER INTRIGE (Single 2021/DWRSIN05)
SALINE GRACE - The EVENING PRAYER (Single 2023/DWRSIN06)
SALINE GRACE - THE WHISPERING WOODS (Album 2023/DWRAL06)
APPEARANCES
DARK SPY COMPILATION VOL. 17 (CD 2008/Dark Spy Magazine – Issue No. 23)
MICK MERCER - MUSIC TO DIE FOR (Cherry Red Books 2009)
DARK ORANGE – HORIZONT (2CD 2012/KAL41)
ORKUS! COMPILATION 87 (CD 2013/Orkus! Magazine – Issue No. 03 – March 2013)
COLD HANDS SEDUCTION – VOL. 191 (CD 2017/Sonic Seducer – September 2017)
RELATED PROJECTS
NOBILITY OF SALT - THE EVENING PRAYER (Demo 1997)
NOBILITY OF SALT - THROUGH CLOUDS AND THOUGHTFUL YEARS (Demo 1998)
NOBILITY OF SALT - THE TREMULOUS SEA (first album 2000/DWRCD01)
NOBILITY OF SALT - THE SILENT SHIP EP (CDM 2002/DWRCDM01)
NOBILITY OF SALT - THOSE NARROW STREETS (CD 2004/DWRCD02)